Our business
Our business
VIZ-Steel is the leading global and biggest Russian producer of grain-oriented electrical steel (GOES). Modern production capacities of the Company are located in Yekaterinburg. The capacities allow producing over 170,000 tonnes of transformer steel per year.
5,9%
share in global GOES production
71%
share in Russian GOES production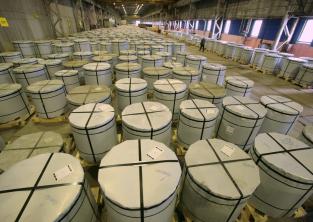 >91,3%
VIZ-Steel products are considered premium metal.
The Company's Management Systems are certified by British Standards Institution for compliance with international standards:


ISO 9001:2015 "Quality Management Systems. Requirements"
ISO 14001:2015 "Environment Management Systems. Requirements"
OHSAS 45001:2018 "Occupational health and safety management systems – Requirements"
ISO 50001:2011 "Energy Management Systems - Requirements with Guidance for Use".